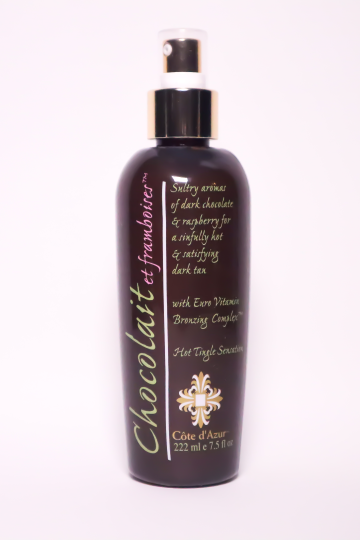 Chocolait et Framboises
John Abate International
Description

Hot Epidermal Stimulator with Bronzers
Tingle Factor 2
Dark Chocolate and Fresh Raspberry fragrance

Indulge yourself with the sultry aromas of rich dark chocolate and tempting raspberry. Chocolait et Framboises exclusive EuroVitamin Bronzing Complex and a sinfully hot epidermal stimulator will satisfy your cravings for a decadently dark tanning experience.  A JA Best Seller!  Tingle Factor 2 is a great starter lotion for those not used to Tingle

Tyrosine to enhance the appearance of a deep bronzed tan.

 Vitamin A & E Complex to moisturize, improve skin elasticity, firmness, smoothness and stimulate new cell production and healing.

Aloe Vera aids in skin moisturization, healing and anti- inflammation.